Neville Pires 
Denver, Colorado 
Acute Lymphoblastic Leukemia 
Transplanted in 2021 
Many thanks to the Colorado Blood Cancer Institute, the American Society for Transplantation and Cellular Therapy, and Kadmon, a Sanofi Company for helping us share Nev's story.  
It's no exaggeration to say that Nev Pires lives to move. Nev not only analyzes and optimizes the dynamics of motion professionally (he has a hard-won Ph.D. in biomechanics and works in the field) he is also a connoisseur of high-velocity adventures, "I love being active. Snowboarding, rock climbing, hiking, mountain biking. Name it, I do it."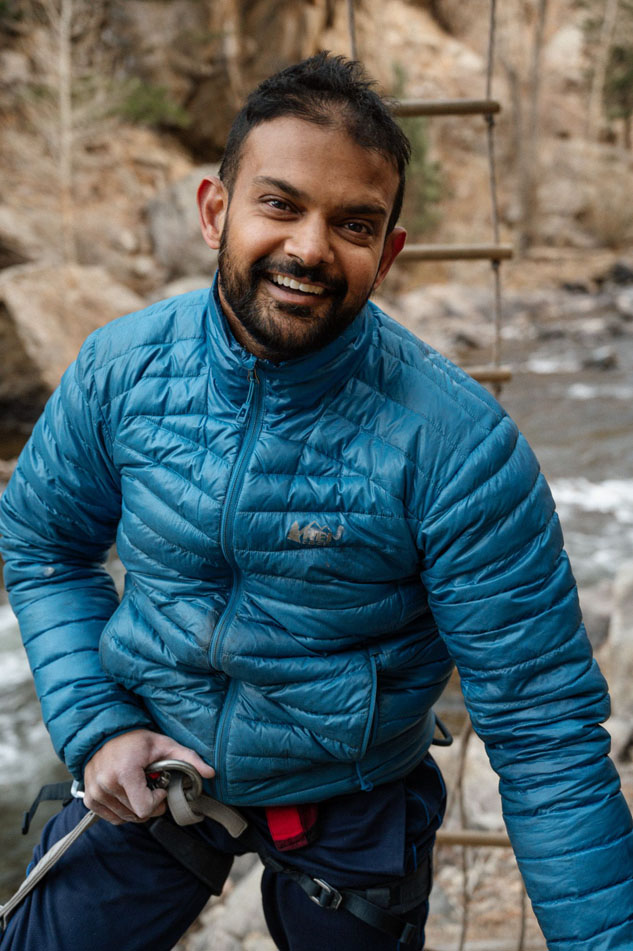 Born in India, raised in Australia, and living in America by choice, Nev, in his mid 30's, was bursting with energy to explore the splendor of the Rocky Mountains near his Denver home. The last thing he expected was to be stilled by illness, but sudden physical limitation hit with an especially sharp sting. 
Initially, Nev didn't recognize the signs that his body was in crisis. In April of 2019, after a period of nagging fatigue, he hit a wall of acute exhaustion after a routine climb in the Rockies, "We didn't even go that hard!"
The next day, feeling miserable, he went to work as usual and pushed to take a scheduled work trip the following week. During that trip he felt "…like I was going to die. Still, I made myself go out and take photos." (An avid amateur photographer, Nev enjoys capturing the natural beauty of new places).
Upon returning from the trip, Nev finally took the advice of his concerned manager and sought medical attention, only to receive an initial misdiagnosis of myelofibrosis. His symptoms responded temporarily to the treatment for myelofibrosis, but by July, Nev was once more felled by exhaustion and finally diagnosed properly – with acute lymphoblastic leukemia (ALL).  
Nev's ALL diagnosis coincided with a previously planned visit from his parents from Australia. Both supported Nev through his early course of treatment at Rocky Mountain Cancer Centers/Swedish Medical Center. When Nev's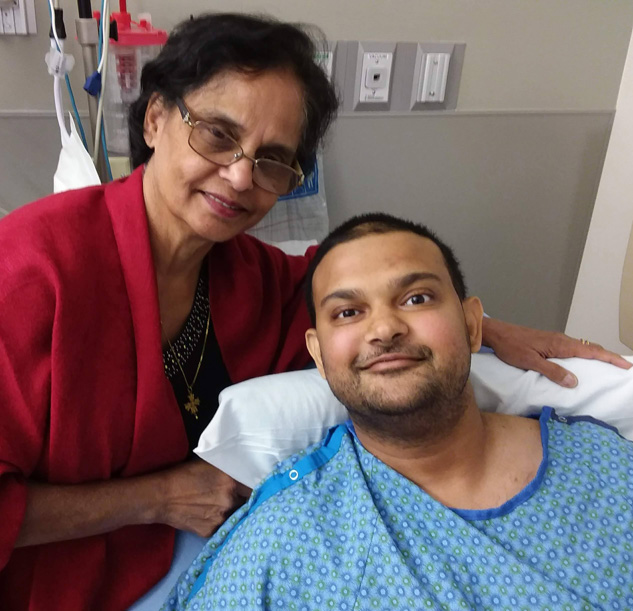 father had to return to Australia, his mother stayed on for what would turn out to be three years of caring for her only child and beloved son.
Early in his treatment, in September of 2019, Nev experienced a terrifying episode: "In the midst of dialysis, the kidney machine clogged; my blood was too thick, everything shut down and I had a heart attack." 
After being resuscitated, Nev entered a series of terrifying, drug-induced hallucinations during which, as he put it, "My mind was no longer in Denver, Colorado. I was in a training camp in Tokyo to fight the Yakuza. When they put a vent down my throat, in my mind it was the Yakuza, and if only I could escape from this slip knot, I would live."
Nev's delusions were met with empathy and constancy by his mom, and the entire medical staff at Swedish Medical Center. As Nev says, "I loved those nurses at Swedish, they were angels.They went through heaven and hell to help me." Nev describes this recovery period infused with small, daily kindnesses, "The nurses, the X-ray technicians, they worked 12-hour shifts and still made time to come by and say hi to me. One of the doctors, Dr. Sujatha Nallaparedy, she wasn't even my primary, she would cook me curries." With characteristic sharp wit, Nev quips, "I think it's the Australian accent."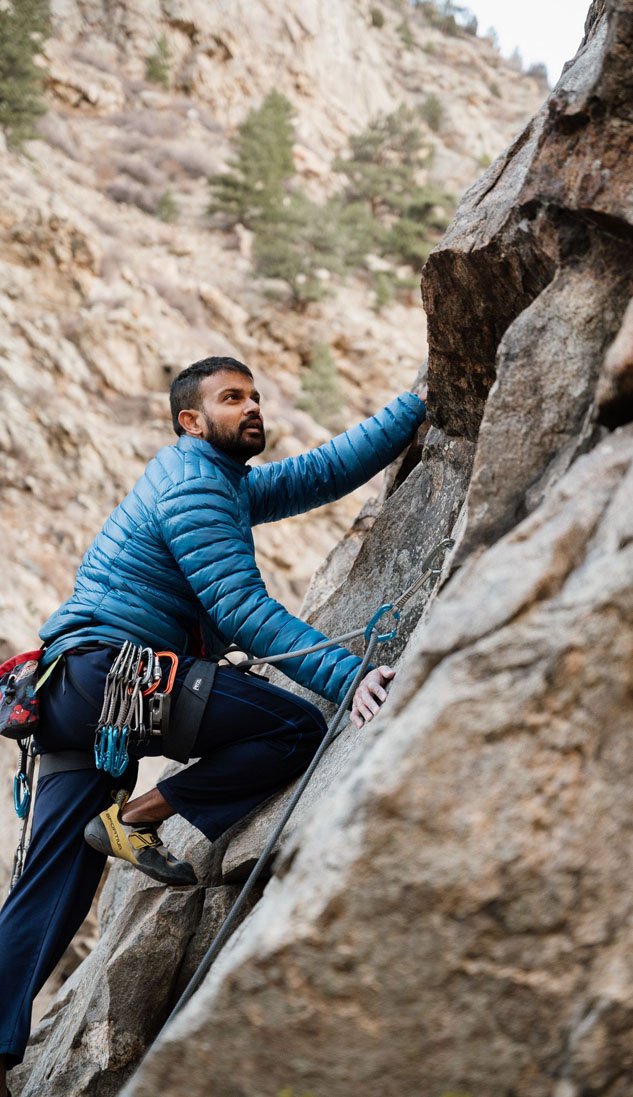 After Nev failed to enter true remission, his doctors suggested a bone marrow transplant at Colorado Blood Cancer Institute (CBCI), under the supervision of Dr. Marcello Rotta. Terrified of re-experiencing the crushing physical debilitation he'd already been through, Nev was, at first, radically opposed to the idea. Nor did Dr. Rotta sugar coat the potential side effects of BMT. When Nev asked if he'd be able rock climb after transplant, Dr. Rotta replied, "You might not be strong enough to pick up a guitar, let alone go rock climbing." Nev says he felt, "What's the point in being alive if I'm not living?"
But finally, with encouragement, Nev accepted this option and had a successful transplant at CBCI, where he kept sane "in captivity" by playing an assortment of instruments he stashed in his hospital room, including a ukulele, and by stealing off to the lobby (compromised immune system and all!) to play the piano. Nev also amused himself and his visitors by writing drole "daily goals" on his whiteboard, including "Find out what the word 'placebo' means!"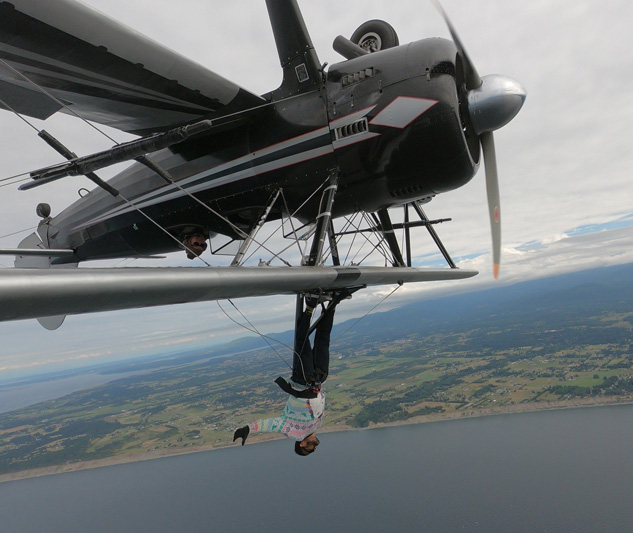 Since regaining his vitality, Nev's appetite for adventure has returned full force – he's found time to scuba dive with sharks and to "wing-walk" on a barrel-rolling airplane! Though Nev hasn't met his donor, he is powered by her gift every day. As he puts it, "Now that I have the blood of an American woman flowing through my veins, I'm bad *ss!"
Once more, he's a man in constant motion. When asked if he had time to look over this profile for approval, Nev said, "I'll probably be snowboarding." Still, he promised to look, even if he didn't stop moving. 

Colorado Blood Cancer Institute (CBCI), a part of the Sarah Cannon Cancer Institute at Presbyterian St. Luke's Medical Center, is a FACT accredited program that provides comprehensive hem-malignancy care including autologous and allogeneic stem cell transplant and is a certified commercial and research CAR T provider. CBCI also performs transplants for autoimmune disorders and multiple sclerosis. CBCI is celebrating its 30th Anniversary as a transplant program and has performed over 5300 BMT's since its inception and we perform > 330 transplants annually. We are committed to scientific investigation of the most progressive treatments dedicated to cure cancer. 
The American Society for Transplantation and Cellular Therapy (ASTCT), formerly known as the American Society for Blood and Marrow Transplantation, is a professional society of more than 2,200 healthcare professionals and scientists from over 45 countries who are dedicated to improving the application and success of blood and marrow transplantation and related cellular therapies. ASTCT strives to be the leading organization promoting research, education, and clinical practice to deliver the best, comprehensive patient care.  
Kadmon, a Sanofi Company, is a biopharmaceutical company that discovers, develops, and markets transformative therapies for unmet medical needs.  
Photo Credit: Leigh Horne Denver, CO leighorne.com 
English